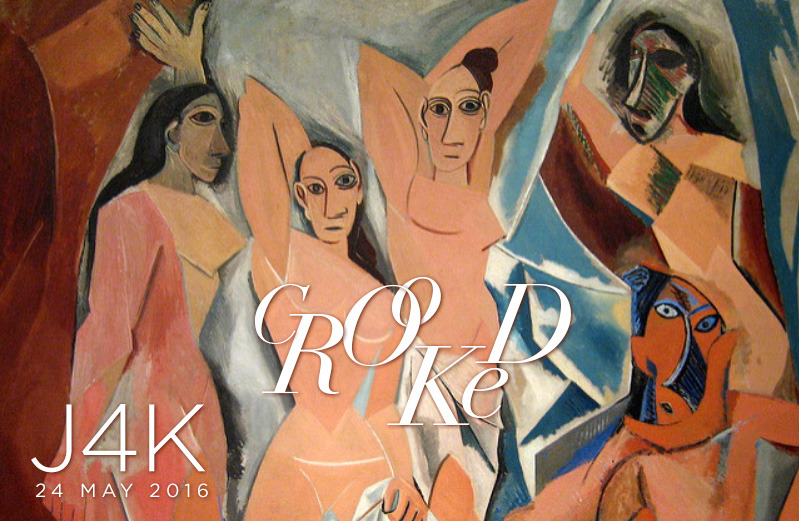 I HAVE FOUND THAT IN THIS WORLD WE HAVE DIFFERENT CROOKED THINGS.  WE HAVE CROOKED TEETH, A CROOKED NOSE, CROOKED TOES…CROOKED MINDS.  I MEAN, IT'S NO QUESTION, THAT AS WE AGE, OUR BODIES START GETTING CROOKED!  THERE IS A BEAUTY TO IT.  YES, OUR BODIES ARE ASYMMETRICAL, AND THAT IS WHAT IS BEAUTIFUL.  HAVE YOU EVER NOTICED THE BEAUTY IN A VERY OLD WOMAN OR MAN? TIME SHOWS IN THEIR CROOKED FACE. OR EVEN THE CROOKEDNESS IS APPARENT IN A BABY, FRESH CROOKED BABES.  OR WHAT DO YOU THINK ABOUT A DOG WITH ONE EYE SLIGHTLY HIGHER THAN THE OTHER?  ALL ARE ENDEARING TO SOMEONE.
WE'RE NOT LOOKING FOR PERFECTION THOUGH IN OUR CROOKED, PHYSICAL SELVES- WE ARE LOOKING FOR AN INTANGIBLE RESPONSE TO OUR PHYSICALITY THAT ACTUALLY CORRESPONDS TO OUR FEELINGS.  PEOPLE WILL LOOK AT US, AND WE LOOK AT OURSELVES IN THE MIRROR AND SEE ONE CROOKED APPEARANCE.  MAYBE WE DO SEE ALL THE ASYMMETRICALLY IN ANOTHER PERSON, AND MAYBE THEY SEE IT IN US- YET WE ACCEPT THAT FOR SOMEONE ELSE, AND SOMEONE ACCEPTS IT OF OURSELVES.  WHAT DOES IT TAKE FOR SOMEONE TO ACCEPT US OR REJECT US, INCLUDING OURSELVES?  I BELIEVE IT IS OUR MIND THAT ACCEPTS OR REJECTS. OUR MIND, TOTALLY INTANGIBLE AND ABSTRACT, WE CAN'T TOUCH IT, WE CAN'T SEE IT.  IT'S LIKE THE SOUL…IT IS THERE BUT YOU CAN'T HOLD IT… AND AS A PART OF OUR BODIES, IT RULES OUR LIVES.
BUT MY FASCINATION HERE IS MOSTLY ABOUT THE COMPLEXITY OF THE CROOKED MIND!  CROOKED MINDS-THE FIRST THING THAT COMES TO YOU AS YOU READ THIS- IS THE CROOKED MIND OF A MEAN AND CRUEL HUMAN BEING.  WOULDN'T YOU THINK THAT ALL OF US, ON SOME LEVEL, HAVE A CROOKED MIND?  YOU DON'T HAVE TO CONFESS TO ME.  I KNOW THAT WE ALL, IN SOME MOMENTS OF LIFE, CAN BE CAPABLE OF DARK THOUGHTS. FOR SOME OF US, IT DOESN'T GO FURTHER THAN JUST A CROOKED THOUGHT.  BUT FOR SOME POWERFUL PEOPLE, UNFORTUNATELY THEIR CROOKED THOUGHTS ACTUALLY BECOME CROOKED ACTIONS.
WOMEN, WE ARE MASTERS OF SEEING THE "CROOKED" IN RANDOM SITUATIONS.  WE CAN ELABORATELY DISSECT A SIMPLE SITUATION UNTIL WE REVEAL ALL OF THE ISSUE'S COMPLEXITIES! IT HAS NOTHING TO DO WITH WHETHER WOMEN ARE BETTER OR WORSE FOR THAT.  IT SIMPLY IS SOMETHING WE DO… IT GOES ALONG WITH BEING MULTI-TASKERS I BELIEVE.   I WONDER WHY THERE ARE NOT MORE HOLY GURU WOMEN IN THE WORLD.  SINCE WE ARE SUCH DEEP AND COMPLEX THINKERS, AND WE ARE SUCH WISE HUMAN BEINGS, OUR PLACE ON THIS EARTH SHOULD BE MORE PROMINENT.
I'M HAPPY WITH MY CROOKEDNESS.  I'VE ACCEPTED IT- OKAY,  I'VE ACCEPTED MY PHYSICALLY CROOKED SELF- THE CROOKED MIND, I WORK WITH, I TRY TO KEEP IT TAME AND UNDER A GUARDED EYE.  I LOOK FORWARD TO HEARING FROM YOUR CROOKED SELVES!
GUADALUPEGOLER@HOTMAIL.COM