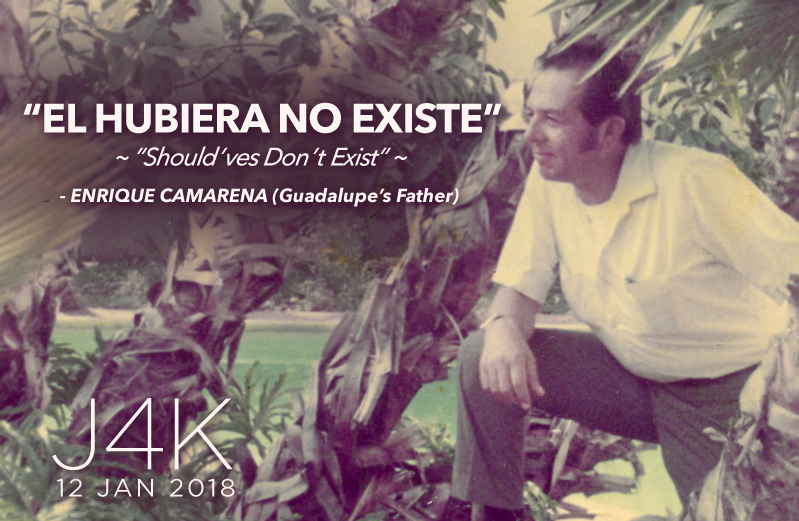 I CAN STILL HEAR HIM LOUD AND CLEAR.
MY FATHER WAS WELL KNOWN FOR USING THIS EXPRESSION, "EL HUBIERA NO EXISTE."  BASICALLY, IT TRANSLATES TO MORE OR LESS:  FORGET ABOUT THE "WHAT-IFS" OR THE "SHOULD'VES" BECAUSE THEY DON'T EXIST.  HE USED TO GET AGGRAVATED IF ANY OF US SEVEN KIDS WOULD WHINE SAYING "I SHOULD'VE DONE THIS" OR "I SHOULD HAVE DONE THAT!!"
THIS YEAR, ON THE NIGHT OF THE 24TH DURING THE FARROLITO WALK ON CANYON ROAD, I HAD A MOMENT I KEEP GOING BACK TO WITH THE "I SHOULD'VE…".  EVERYONE WAS IN THE HOLIDAY SPIRIT. THE WEATHER WAS BEAUTIFUL – NOT TOO COLD BUT WITH ENOUGH OF A CHILLY BITE IN THE AIR SO THAT IT FELT LIKE CHRISTMAS.  THE MERRY SPIRIT OF NOEL WITH THE "I LOVE YOU'S, YOU LOVE ME'S, LET'S BE CHEERY WAS IN THE AIR FLOATING THROUGH THE SCULPTURES OF CANYON RD. WHILE WE WERE STROLLING WITH A GROUP OF FRIENDS, I SAW OUT OF THE CORNER OF MY EYE A STALLED COUPLE.  IT WAS HARD TO DISCERN WHAT WAS HAPPENING BUT IT APPEARED THAT SHE WAS FAINTING. LIKE THE GOOD SAMARITAN I THINK I AM, I RUSHED OVER TO SEE HOW I COULD HELP THEM.  THE MAN HAD MANAGED TO GET HER TO SIT ON THE COLD SIDEWALK AND WAS HOVERING OVER HER.  I ASKED HIM WHAT WAS WRONG AND HOW I COULD HELP.  HE WAS CURT WITH ME AND ANSWERED BACK THAT THERE WERE TOO MANY PEOPLE AND THAT SHE WAS CONFUSED.  I IMMEDIATELY FELT THIS NEED TO LEAVE THEM ALONE AND GIVE THEM SOME PRIVACY.  STRANGELY ENOUGH I TURNED AROUND AND WALKED AWAY FROM THE COUPLE.
I RE-JOINED MY FRIENDS WHO WERE ENJOYING THE EVENING SO THAT WE COULD CONTINUE WALKING THROUGH CANYON ROAD. WE WERE QUICKLY SUBMERGED INTO THE CROWD AND I NO LONGER COULD SEE THE COUPLE.
MY REACTION HAS BEEN HAUNTING ME SINCE THEN!  WHAT WAS I THINKING?  WHAT HAPPENED TO THE WOMAN?  WAS SHE OKAY?  DID THEY REALLY NEED HELP BUT WERE TOO SHY TO ASK FOR IT?  WHY DID I LEAVE?! I SHOULD HAVE STAYED. I SHOULD HAVE TRIED TO HELP HIM. I SHOULD HAVE FOUND SOMEONE ELSE TO HELP IF THEY DIDN'T WANT MY HELP. I SHOULD'VE, I SHOULD'VE , I SHOULD'VE!  BUT IT'S TOO LATE.  LIKE MY FATHER USED TO SAY, "EL HUBIERA NO EXISTE."  ALTHOUGH IT MAKES SENSE – I SHOULDN'T DWELL.  IT'S OVER.  IT'S PAST. I STILL FEEL GUILTY. MY FATHER WOULD NOT HAVE BEEN PROUD OF ME. IN MY HEAD I EXPLAIN TO MY DAD, "I'M SORRY. I'M GENERALLY MORE ASSERTIVE!" SOMETHING DID LEAD ME TO BELIEVE THAT THE WOMAN NEEDED PRIVACY.
THIS YEAR I DIDN'T MAKE ANY NEW YEAR'S RESOLUTIONS. NO DIETS. NO EXOTIC TRIPS. NO "RE"DESIGNING MYSELF.  HOWEVER, AFTER MY ENCOUNTER ON CANYON ROAD, I DO HAVE ONE FOCUS FOR THE YEAR 2018: I AM GOING TO TRY TO LIVE MY LIFE WITHOUT ANY "I SHOULD'VES." THIS YEAR WILL BE ABOUT ACTION AND NO REGRET.  LET'S DO IT!
I WOULD LOVE TO HEAR FROM YOU…. WRITE ME AT GUADA755@OUTLOOK.COM