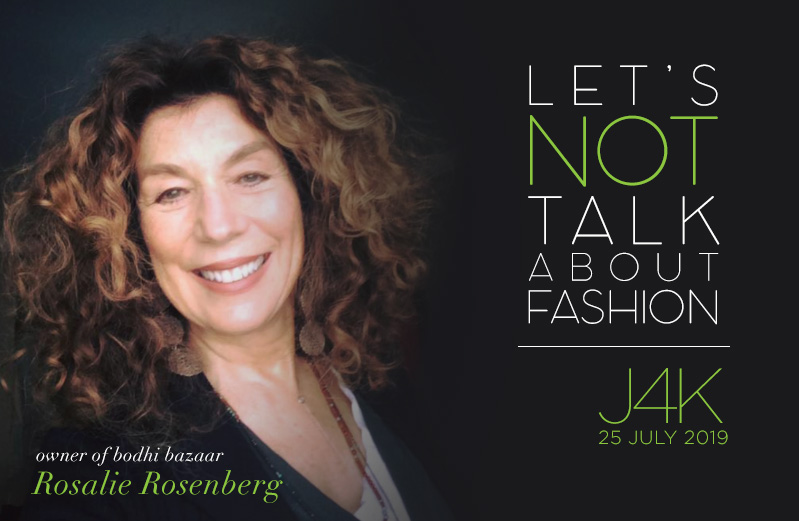 I HAVE NOTICED THAT IN THIS TOWN THERE ARE SOME REALLY WONDERFUL, INTERESTING AND DYNAMIC WOMEN. YES, AND OF COURSE, THERE ARE ALSO SOME PRETTY FABULOUS MEN! IN THE NEXT WEEKS I AM GOING TO BE INTERVIEWING MEN AND WOMEN WHO I FIND TO BE VERY INTERESTING.  I HOPE THAT YOU FIND THEM AS COMPELLING AS I DO! MY FIRST GUEST IS ROSALIE ROSENBERG, THE OWNER OF BODHI BAZAAR. THE CHALLENGE FOR ME WAS TO PUT IN A FEW PARAGRAPHS RELATING TO THE ESSENCE OF WHO ROSALIE IS.  NOT EVEN GARCIA MARQUEZ COULD FIND THIS TO BE AN EASY JOB! THE BEST PART OF THIS HAS BEEN SPENDING TIME WITH ROSALIE, GETTING TO KNOW HER AND CONFIRMING TO ME WHAT I HAD SUSPECTED ABOUT HER.
LET'S NOT TALK ABOUT FASHION WITH ROSALIE ROSENBERG
WE MEET AT THE TEAHOUSE ON CANYON ROAD, A PERFECT PLACE TO MEET FOR AN AFTERNOON CHAT. WE ARE SITTING ACROSS FROM ONE ANOTHER CHATTING OVER A GLASS OF WINE AND A SALAD. AS I INTENSELY LOOK AT HER, I REALIZE WE PHYSICALLY COULD NOT BE MORE DIFFERENT. SHE HAS THIS REBELLIOUS, CURLY HAIR THAT CONSTANTLY NEEDS TO BE DRAWN AWAY FROM HER FACE.  I HAVE THIS LONG, STRAIGHT HAIR.  SHE HAS GREEN EYES AND I HAVE MY FATHER'S BROWN EYES.
WE SURE DO NOT MIRROR ONE ANOTHER PHYSICALLY BUT WE DO MIRROR ONE ANOTHER AS THE DETERMINED BUSINESS WOMEN THAT WE ARE. THE LAST THIRTY PLUS YEARS OUR PATHS ONLY HAVE CROSSED IN A MILD WAY. FROM AFAR I RECOGNIZED WHO SHE IS AND I BELIEVE IT WAS THE SAME FOR HER, IN REGARDS TO ME. I KNOW THERE ARE NO COINCIDENCES IN LIFE BUT LATELY OUR PATHS HAVE BROUGHT US CLOSER.
I AM FASCINATED WITH THE EASY CONVERSATION THAT IS HAPPENING BETWEEN US. ROSALIE HAS MANY CHAPTERS IN HER LIFE.  SHE HAS TRAVELED THE WORLD PICKING COUNTRIES WITH AN EENIEE, MINNEE, MINEY, MOE APPROACH.  ROSALIE HAS TRULY HAD A TASTE FOR THE ECCENTRIC.  SHE LIVED IN A COMMUNE WHERE SPIRITUALITY AND COMMUNITY WERE ESSENTIAL. SHE HAS EXPLORED LIFE IN INDIA AND OF COURSE, SHE SETTLED IN SANTA FE.  WE KNOW THAT IN THE EARLY SEVENTIES, IT WAS QUITE ECCENTRIC AND BOHEMIAN HERE!
ROSALIE SPENT MUCH OF HER CHILDHOOD IN SCOTTSDALE. COINCIDENTALLY ENOUGH, SHE LEARNED ABOUT RETAIL AND THE PASSION ABOUT FASHION FROM PEOPLE THROUGH OSMOSIS – VERY SIMILAR TO ME. HER MOTHER OWNS A GALLERY/SHOP WHERE ROSALIE'S EYE FOR BEAUTY AND FASHION WAS DEVELOPED. THIS BACKGROUND IS HOW SHE LANDED A JOB AT BODHI BAZAAR AND THEN LATER BECAME THE OWNER AND CURRENTLY STILL IS!  SHE LIKES TO SAY IT ALL HAPPENED BY ACCIDENT.  IT WAS NEVER IN HER PLANS TO OWN ONE OF THE BEST WOMEN'S FASHION BOUTIQUES IN SANTA FE!  I CAN RELATE 😉
OUR CONVERSATION DOES NOT GO TOWARDS FASHION THOUGH.  IS IT BECAUSE WE EAT AND BREATHE FASHION 24/7? WE DO, HOWEVER, SHARE MOMENTS WHEN PERSONAL LIFE AND BUSINESS LIFE HAVE BEEN SO CHALLENGING THAT IT FEELS LIKE A WAVE SLAMMING US HARD AGAINST THE BEACH. WE BOTH AGREE THAT STILL, LIFE HAS ALSO PROVIDED US WITH THE TASTE OF SUCCESS AND SOME FINANCIAL FREEDOMS. NEVERTHELESS, THE ROLLER COASTER OF UP AND DOWNS IN BUSINESS HAS MADE HER FEEL HUMBLE, AS IT HAS ME.
THERE IS AN ANALOGY OF A MAN WHO SEES HIS LIFE AS FOOTSTEPS IN THE SAND.  AND DURING HIS HARDEST TIMES, HE ONLY SEES THERE WAS ONE SET OF FOOTPRINTS.  AT THE END, HE GETS TO ASK GOD WHY HE ABANDONED HIM DURING THESE HARD MOMENTS.  GOD ANSWERS HIM THAT HE HAS BEEN WITH HIM THE ENTIRE TIME.  THE ONE SET OF FOOTPRINTS ARE GODS.  HE WAS SIMPLY CARRYING THE MAN IN HIS ARMS DURING HIS HARDEST TIMES.  WELL, ROSALIE FEELS SIMILARLY ABOUT THE SANTA FE COMMUNITY.  SHE EXPRESSES THAT DURING HER HARDEST TIMES, SHE HAS BEEN HELD BY THE COMMUNITY. I TOTALLY RELATE TO THAT.
HERE ARE SOME QUESTIONS THAT I WAS ABLE TO ASK HER AT THAT LUNCH:
G: WHAT WILL GOD SAY WHEN HE SEES YOU COMING?
R: GOOD JOB GIRLFRIEND.
G: DO YOU HAVE ANY REGRETS ABOUT LIFE?
R: I DO NOT LIVE IN REGRET.
G: WHAT WILL BE YOUR MESSAGE TO THE WORLD?
R:  SHE LOOKS AT ME WITH COMPLETE SURPRISE WITH THOSE PRETTY GREEN EYES AND HER CURLY HAIR PLAYING IN FRONT OF HER FACE AND SAYS, "WELL, THAT IS A VERY GREAT QUESTION!"
I AM NOT THE TYPICAL ACTIVIST THAT YOU CAN PICTURE WITH PAMPHLETS ON THE STREET AS AN ACTIVIST. WHAT IS MY MESSAGE TO THE WORLD?  I DO IT THROUGH BEING IN MY STORE EVERY DAY.  THE STORE IS MY PASSION, MY BELIEFS, AND IT IS WHERE I CAN BE EMPATHETIC AND PRESENT FOR THE WHO SURROUND ME.
HER ANSWER REMINDED ME OF THE MICHAEL JACKSON SONG "MAN IN THE MIRROR" THAT SAYS, "IF YOU WANT TO MAKE THE WORLD A BETTER PLACE, TAKE A LOOK AT YOURSELF AND THEN MAKE THAT CHANGE."
YES, I THINK THIS SONG SUITS THE GREEN EYED, CURLY HAIRED ROSALIE.
IF YOU ARE GOING TO WRITE TO ME, PLEASE WRITE TO MY PERSONAL EMAIL ADDRESS, AND LET'S JUST ALL HOPE THAT WE DON'T HAVE BAD HAIR DAYS.
I'D LOVE TO HEAR YOUR THOUGHTS, PLEASE SEND TO GUADALUPEJ4K@GMAIL.COM!