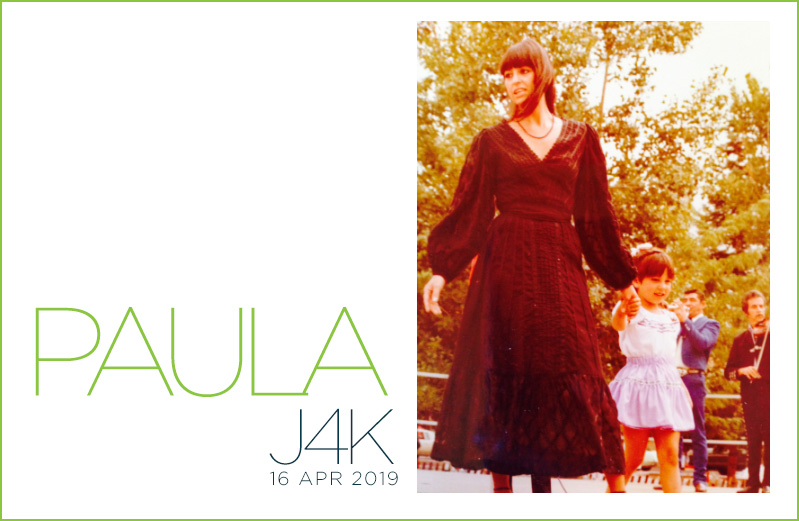 THE YEAR WAS 1975 AND THE DAY WAS SEPTEMBER 1. ONLY TWO WEEKS EARLIER I HAD JUST TURNED 20 YEARS OLD. IN THE MIDDLE OF THE NIGHT I STARTED TO FEEL CONTRACTIONS. I WAKE UP RAUL AND SAY, "IT'S TIME." OF COURSE, I GET UP TO APPLY MY LIPSTICK AND MASCARA. I WANTED TO DELIVER MY BABY LOOKING SHARP. I PUT ON A CUTE LITTLE DRESS THAT MY MOTHER-IN-LAW HAD MADE FOR ME AND WE RUSHED TO THE HOSPITAL. I AM FEELING IN CHARGE OF MY SECOND DELIVERY. I FELT THAT I WAS A PRO BY NOW.
MY GOOD INTENTION WAS TO BE CALM FOR THIS ROUND TWO BUT THOSE GOOD PLANS GO OUT THE WINDOW AS THE NURSES ATTEND TO ME.  I HAPPEN TO BE ALLERGIC TO THE MEDICINE THAT I AM GIVEN AT THE HOSPITAL! I SEE ONLY LOTS OF HANDS FLYING ALL AROUND ME. I THINK THEY ARE SPEAKING ENGLISH BUT IT DOES NOT MATTER. I AM ON A MISSION TO DELIVER MY BABY! I CANNOT MAKE SENSE OF ANYTHING ELSE. A FACELESS NURSE COMES TO ME (I HOPE SHE'S A NURSE!) AND PUSHES DOWN VERY HARD ON MY DIAPHRAGM. THIS IS PROBABLY NECESSARY SINCE I CANNOT HELP IN THE BIRTH. I CANNOT PUSH ON MY OWN.  WHAT AN ARCHAIC WAY TO HELP PUSH OUT THE BABY THOUGH! I AM VERY MEDICATED BUT I FEEL AN INCREDIBLE SURGE OF PAIN. AND WITH THAT, MY DAUGHTER ARRIVES INTO THIS WORLD FORCED THROUGH BY A FACELESS NURSE.
MY SCREAM FILLS UP THE ROOM AS SHE HAS HER FIRST BREATH OF AIR. I THEN GO COMPLETELY UNCONSCIOUS. THIS IS PERHAPS THE MOMENT WHERE WE GIVE BIRTH TO TWO BEINGS? ONE IS FOR THIS PLANET AND THE OTHER, AS THE THEORY OF QUANTUM PHYSICS SAYS, IS A DOUBLE OF US FLOATING AROUND IN SPACE. IS THIS ONE OF THE REASONS THAT GIVING BIRTH IS SO AMAZING? MY BABY'S PLANETS ALIGNED AND WERE READY TO GUIDE HER. WHAT SHE AND I DID NOT KNOW WE WERE DESTINED TO WALK AT EACH OTHER'S SIDES FOR THE REST OF OUR LIVES.
IF I FELT PAIN OR FEAR OR CONFUSION, IT ALL WENT AWAY WHEN I SAW MY BABY. SHE WAS SO PETITE AND PRETTY. ANOTHER VERY YOUNG WOMAN WAS SHARING THE HOSPITAL ROOM WITH ME. HER BABY WAS ALSO A GIRL. ON ONE OF THE GIFTS SHE RECEIVED, I FOUND FIND SOME PINK RIBBON AND I MADE LITTLE MATCHING BOWS FOR OUR NEW BABIES. I STILL REMEMBER TAPING THEIR SOFT HEADS. THE DIFFERENCE BETWEEN THE TWO OF US WAS THAT NO ONE CAME TO VISIT HER OR SHARE THIS EXPERIENCE WITH HER.
HOWEVER, WHEN MY FAMILY VISITED ME, IT WAS IN AND OUT LIKE THE FAST AND FURIOUS. SO I DID FEEL BLESSED WITH THEIR LOVE FOR A MINUTE BUT THEY LEFT ME ALONE RIGHT AWAY. AS A MATTER OF FACT IT LEFT ME FEELING LONELY. MY HOSPITAL ROOMMATE AND I BONDED EVEN CLOSER HAVING BOTH JUST BROUGHT NEW LIFE INTO THE WORLD BUT SOMEHOW WE WERE ALONE.  EVEN THOUGH I DID NOT SPEAK ENGLISH, WE STILL UNDERSTOOD EACH OTHER. THIS PROVED ONE MORE TIME TO ME THAT FEELINGS SPEAK LOUDER THAN WORDS.
BY THE FOLLOWING DAY THEY DISCHARGED ME. I DID THE SAME STEPS THAT I HAD DONE 24 HOURS BEFORE. I PUT ON MY LIPSTICK AND MY MASCARA, PROUD TO HAVE BROUGHT NEW LIFE INTO THIS WORLD.  A FEW DAYS AFTER I GOT HOME, MY HUSBAND NEEDED TO GO OUT OF TOWN. SIMPLY, HE NEEDED TO GO OUT OF TOWN.  BUT I JUST HAD A BABY…. AND MY SON WAS ONLY 15 MONTHS OLD.  I FOUND MYSELF ALONE, IN A DIFFERENT COUNTRY WITHOUT BEING ABLE TO SPEAK THE LANGUAGE MUCH LESS DRIVE A CAR.  I WAS WITH MY BABIES BUT I WAS ALONE IN AN EMPTY HOUSE WITH SO MUCH RESPONSIBILITY. I WOULD HOLD MY BABY CLOSELY, BREASTFEEDING HER WITH TEARS ROLLING DOWN MY FACE. SHE BECAME MY SAVIOR AS I HUGGED HER TIGHTLY IN MY SADNESS.  I CANNOT EVEN REMEMBER WHAT MY BABY BOY, CHICO, WAS DOING!
AT THE TIME, I HAD NO IDEA ABOUT POSTPARTUM DEPRESSION. WHAT WOULD THIS SAME SITUATION LOOK LIKE NOW?  I HATE TO THINK OF WOMEN GOING THROUGH AN EXPERIENCE LIKE THIS.  I WONDER HOW I WENT THROUGH IT MYSELF!  MY YOUTH SAVED ME. BUT I DID PASS ON TO MY DAUGHTER ALL MY GRIEF.  IT WAS NO WONDER SHE QUICKLY BECAME A LITTLE ADULT.  IT IS TOO LATE FOR REGRETS NOW. WE ARE FORMED AND SHAPED BY OUR OWN CHILDHOOD EXPERIENCES AND EMOTIONS. EVEN WHEN THERE ARE NO WORDS INVOLVED, THIS IS WHAT MADE SHE AND I WHO WE ARE TODAY:  STRONG, SENSITIVE, RESILIENT, AND IF I MAY SAY SO…KIND OF CUTE.
IT WAS NOT A PERFECT SITUATION FOR EITHER OF US BUT IT WAS OUR SITUATION AND WE WOULD LEARN FROM IT TOGETHER. THIS LITTLE GIRL NAMED PAULA WOULD GROW UP TO WALK BY MY SIDE THROUGH THE GOOD, THE BAD AND THE FASHIONABLE 😉
I'D LOVE TO HEAR YOUR THOUGHTS, PLEASE SEND TO GUADALUPEJ4K@GMAIL.COM!