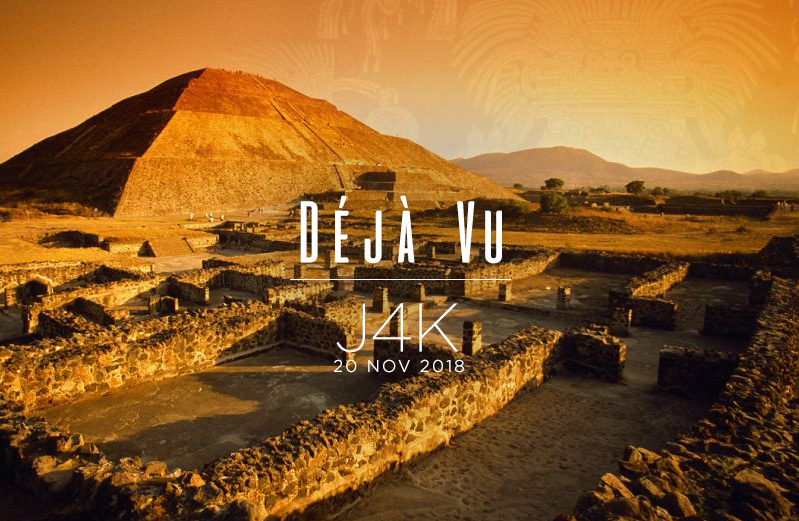 THIS FEELS LIKE A DÉJÀ VU.. IT WAS ONLY A FEW MONTHS AGO THAT I WAS IN THE MIDDLE OF A CROWD, IN NYC, FEELING LIKE I WAS EXPERIENCING THE TOWER OF BABEL, EXCEPT THIS TIME I'M LITERALLY ON ANOTHER PART OF THE WORLD ON TOP OF THE PYRAMIDS OF THE SUN IN TEOTIHUACAN, MEXICO CITY! THE ORIGIN OF THE BUILDING IS UNKNOWN AND WHEN THE AZTECS ARRIVED IN THEIR TIME, THEY BROUGHT IT BACK TO LIFE AGAIN. HERE I AM, ABOUT 2000 YEARS LATER, THE PLACE IS FULL OF VISITORS FROM ALL OVER THE WORLD.
AS I LISTEN TO OUR TOUR GUIDE I TRY TO IMAGINE THIS PLACE BACK THEN, WHEN THESE PYRAMIDS WERE USED FOR CEREMONIES. ONE OF THE CEREMONIES PRACTICED HERE INVOLVED SACRIFICING ANIMALS AND HUMANS ALIKE! THEY USED TO BE SO KNOWLEDGEABLE ABOUT THE HUMAN BODY THAT WITH ONE SINGLE STRIKE AT THE BOTTOM OF THE RIBCAGE THEY WERE ABLE TO REMOVE THE HEART, STILL BEATING AND PUMPING! THE PULSATING HEARTS WERE OFFERED TO THEIR GODS. THIS ACTIVITY SOUNDS VERY GORY AND BARBARIAN TO US NOW, DOESN'T IT?  OUR 21ST CENTURY MINDS HAVE A HARD IMAGINING HOW SUCH BRUTAL CEREMONIES EXISTED.  YET, IF ANY OF THOSE AZTECS WOULD SEE WHAT WE'VE DONE TO THE PLANET TODAY, BECAUSE THE EARTH WAS SO SACRED FOR THEM, THEY WOULD PROBABLY BE HORRIFIED AT HOW WE ARE DESTROYING OUR WORLD!
STANDING ON TOP OF ONE OF THESE PYRAMIDS, MY EYES CAN TRAVEL 360 DEGREES AROUND ME. I'M TAKING IN THE AS MUCH OF THE VALLEY AND THE SKIES, TRYING TO SEAL THEM IN THE FOREVER OF MY MIND'S EYE. HALF OF MY BRAIN IS TRYING TO RECEIVE ALL OF THE ENERGY FROM THE SKY AS WELL. YOU KNOW, WHATEVER HELPS!  I CAN USE AS MUCH AS I CAN GET! THE OTHER HALF OF ME IS LISTENING TO THE TOUR GUIDE. SHE SAYS "THIS PYRAMID WAS BUILT SO HIGH BECAUSE THEY WANTED TO BE AS CLOSE TO THEIR GODS IN THE SKIES AS POSSIBLE WHILE SIMULTANEOUSLY BE CLOSE TO THE UNDERGROUND." SO HERE WE ARE TODAY, PEOPLE ARE CONSTRUCTING BUILDINGS TO REACH THE SKIES.  WE KEEP GOING BACK TO THE SAME IDEAS EXCEPT NOW MOST OF THE TALLEST BUILDINGS ARE BUILT FOR GREEDY AND EGOCENTRIC REASONS, (THE TALLEST BUILDING IN THE WORLD TODAY IS IN ABU DHABY.
I CONTINUE TO CLIMB THE 248 STEPS.  I AM OUT OF BREATH, OUT OF ENERGY, HUNGRY, AND THIRSTY- BUT SO DETERMINED TO KEEP CLIMBING UP.  MY HAND HAS BEEN IN A CAST SO IT IS GETTING TIRESOME, MY RIGHT KNEE WHICH HAS BEEN INJURED, IS SHAKING, AND MY LEFT KNEE ABOUT TO GIVE OUT ON ME. I THINK ABOUT WHERE I'M AT IN MY LIFE RIGHT NOW AND SAY "SCREW IT! KEEP CLIMBING! WHO KNOWS IF I'LL EVER HAVE THE PRIVILEGE OF BEING BACK HERE AGAIN!!"
AS WE WALK AWAY FROM THE PYRAMIDS, WE ARE WONDERFULLY EXHAUSTED AND HUNGRY!  WE FIND THE FOOD AS ENLIGHTENING AS THE RUINS! THE CUISINE IN MEXICO CITY ACTUALLY TAKES ME BY SURPRISE! I FORGET HOW VARIED THE FOOD IN MY COUNTRY IS.  THERE ARE SPICES, FLAVORS, AND FOODS THAT I'VE NEVER HAD IN MY LIFE!  EVERY REGION IN MEXICO HAS THEIR OWN SPECIALTIES- OTHER FLAVORS AND WAYS OF COOKING.  MEXICAN FOOD IS NOT ALL BEANS AND TACOS (ALTHOUGH WE DO HAVE THE MOST DELICIOUS BEANS AND TACOS!).  BECAUSE MEXICO WAS INVADED BY DIFFERENT COUNTRIES, IT WAS FULL OF UNEXPECTED INFLUENCES THAT ARE MIXED MASTERFULLY!  (I KNOW HOW TO EAT IT BUT NOT TO COOK IT, DON'T BE MISLEAD!).
BUT LET'S TALK "TACOS" IN MY NEXT J4K…
IF YOU HAVE ANY COMMENTS OR QUESTIONS PLEASE WRITE ME AT MY PERSONAL EMAIL- GUADALUPEJ4K@GMAIL.COM