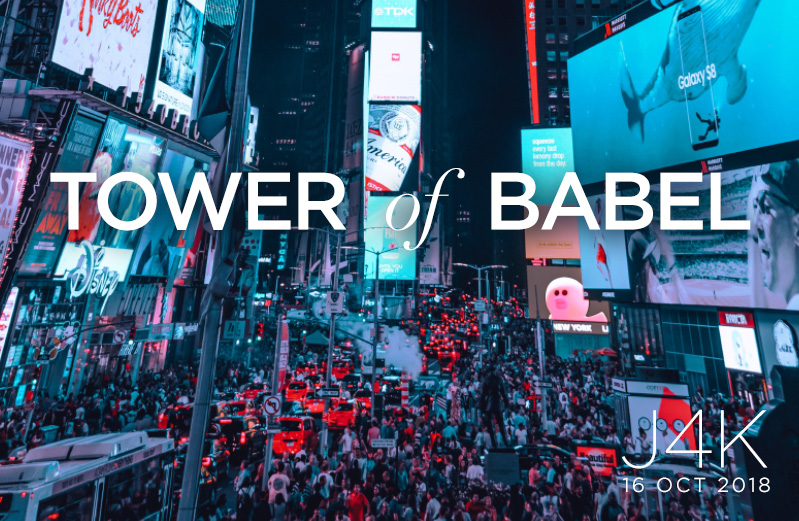 AFTER A LONG HARD-WORKING DAY AT THE ACCESSORY TRADE SHOW IN NEW YORK, I TREATED MYSELF TO A WELL DESERVED EARLY DINNER. I FOUND MYSELF AT A RESTAURANT AT AN OUTDOOR TABLE IN THE HEART OF SOHO. THE DAY WAS PERFECT; NOT TOO COLD, NOT TOO HOT WITH A CLEAR SKY. I ORDERED A GLASS OF WINE. FINALLY, I CAN TAKE A DEEP BREATH AFTER MY LONG DAY OF WORK.
I WAS ENTERTAINED AND MESMERIZED WITH THE PEOPLE WALKING BY IN FRONT OF ME. HEY, THIS IS NEW YORK CITY WHERE YOU SEE A MULTITUDE OF PEOPLE FROM EVERY COUNTRY, EVERY RELIGION AND EVERY BACKGROUND. I COULD HEAR ALL KINDS OF LANGUAGES. SOME I COULD RECOGNIZE; SOME I COULD NOT. YET I AM NOT SURPRISED SINCE THERE ARE ABOUT 6,500-7,000 LANGUAGES SPOKEN ALL OVER THE WORLD. DO YOU KNOW THAT IN NEW YORK THERE ARE AS MANY AS 800 LANGUAGES SPOKEN AND MORE THAN 176 DIFFERENT LANGUAGES SPOKEN IN SCHOOLS, ACCORDING TO THE LATEST NY TIMES 2018.
ALL OF THIS REMINDS ME OF THE TOWER OF BABEL WHICH IS A BIBLICAL STORY AND IT IS MEANT TO EXPLAIN WHY THE WORLD'S PEOPLES SPEAK DIFFERENT LANGUAGES. THE STORY DESCRIBES THAT THE PEOPLE OF THAT TIME WANTED TO BUILD A TALL TOWER HIGH ENOUGH TO TOUCH THE HEAVENS. MEN WERE FULL OF THEMSELVES AND BECAUSE OF THE ARROGANCE OF HUMANITY, GOD DECIDED TO CONFOUND THEM BY CREATING DIFFERENT LANGUAGES. THIS CAUSED CONFUSION AND AS A RESULT, THEY WERE NOT ABLE TO COMMUNICATE AND FINISH THE TOWER. WELL, I FELT THAT I WAS SITTING AT THE TOWER OF BABEL DRINKING A GLASS OF WINE…
MY IMAGINATION IS PRETTY RICH. WITH EACH PERSON THAT WALKED BY, I COULD CREATE A STORY ABOUT THEM FOR MY AMUSING. I SAW A ANGLO COUPLE HOLDING HANDS AS THEY LOOKED IN EACH OTHER'S EYES. NO DOUBT THEY WERE IN LOVE. I SAW MUSLIM WOMEN LITERALLY COVERED FROM HEAD TO TOE IN BLACK BURKAS. I COULD HARDLY SEE THEIR EYES. . . . THEIR BLACK BEAUTIFUL EYES. I WAS WONDERING WHAT GARMENTS THEY WERE WEARING UNDERNEATH THEIR BURKAS. SOMETHING MODEST PERHAPS? MY HOPE WAS THAT IT WAS SOMETHING VERY SEXY. WHILE IN MY THOUGHTS, I WOULD CONTINUE TO SIP ON MY WINE AND TAKE BITES OF MY MEAL. NEW YORK CITY IS SO RICH IN CULTURE, PEOPLE FROM ALL OVER THE WORLD. I WONDER IF THEY LOOK AT ME WITH THE SAME WONDER. IS SHE MEXICAN, CENTRAL AMERICAN OR SOUTH AMERICAN? THIS IS ALL TRUE, YES?
THEN THERE WAS A COUPLE THAT SEEMED HAPPY STROLLING ALONG. THEY WERE MATURE IN AGE, GOOD LOOKING PEOPLE MAYBE AROUND THEIR LATE 60'S. SHE WAS TALL AND BEAUTIFUL WITH VERY LONG HAIR. HE WAS AN ATTRACTIVE MAN. IT STRUCK ME THAT THEY WERE NOT HOLDING HANDS OR THAT HE WAS NOT GIVING HER HIS ARM. HER SHOES WERE VERY HIGH PLAT-FORMS AND BEING THE SHOE PERSON THAT I AM, I THOUGHT, "HMMM, THOSE ARE PRETTY HIGH SHOES TO BE WALKING IN HERE IN THE MIDDLE OF THE CITY. BUT HEY, THIS IS NEW YORK.  ANYTHING HAPPENS HERE WHEN IT COMES TO FASHION. FIVE MINUTES LATER THIS SAME COUPLE RETURNS IN A PRETTY UPSET MOOD AND THE LADY WAS LIMPING. HER HUSBAND SHOUTED TO THE WAITERS, "MY WIFE JUST TWISTED HER FOOT.  PLEASE GIVE ME AN ICE BAG TO PUT ON HER ANKLE". I FINISHED MY WINE AND TOLD MY SELF – I KNEW IT! I KNEW IT!  I KNEW IT!!!!  WHAT SURPRISED ME WAS NOT EVEN THE HEIGHT OF HER SHOES. WHAT SURPRISED ME WAS THAT THIS MAN WAS HER HUSBAND AND THIS COULD HAVE BEEN PREVENTED IF HE WOULD HAVE BEEN MORE OF A GENTLEMAN WITH HER. OR MAYBE SHE WAS NAGGING HIM AT SOME POINT OR THOUGHT SHE WAS VERY SELF-SUFFICIENT AND DIDN'T NEED ANYTHING FROM HIM. WHATEVER HER STATE, SHE ENDED UP WITH AN UNFORTUNATE TWISTED ANKLE. THEY WERE SPEAKING THE SAME LANGUAGE BUT THAT DID NOT SEEM TO HELP, DID IT?  (JUST A THOUGHT.)  WHAT I PROBABLY DO NOT KNOW OR DO KNOW IS THAT THESE PEOPLE ARE EITHER FOREIGN OR LOCAL AND LIKE MYSELF, ALL ARE HERE IN THIS LAND OF OPPORTUNITY, FREEDOM AND JUSTICE FOR ALL.
I DO NOT KNOW HOW MUCH MORE TIME WENT BY, BUT MY APPETITE WAS FULFILLED. I HAD MY GLASS OF WINE AND MY FEET WERE WELL RESTED. IT WAS TIME FOR ME TO MOVE ON.  I TOOK WITH ME ALL OF THESE IMPRESSIONS OF PEOPLE IN MY MIND AND LEFT. . . . LEFT TO FACE MY OWN REALITY.
PLEASE LET ME KNOW WHAT YOUR THOUGHTS ARE AND WRITE ME. MY PERSONAL EMAIL ADDRESS IS GUADALUPEJ4K@GMAIL.COM