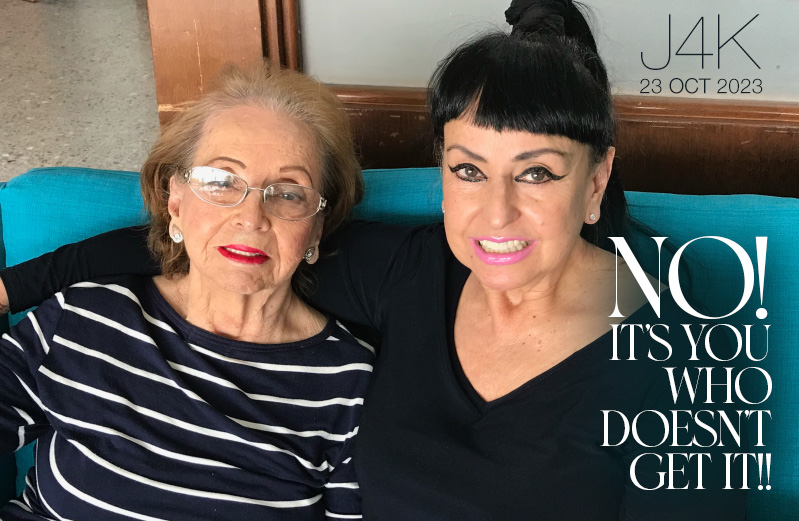 My sister, Ginette, and I were going over some of the memories of our mother's journey through Alzheimer's. Needless to say, there were challenging times between us. Siblings, all seven of us, and consciously or subconsciously just like children, we ganged up on each other. We all meant well but by doing so, it caused so much friction between us. It was almost like a competition, "I'm going to show you that I love Mother more than you do!" And here was my mother looking at us with a look that would say, "You think nobody is home, but I am here." We experienced the process of this disease with her from day one and it took years before she was able to rest. What I learned from her journey is that it is a longer journey for the siblings—the people left behind on this Earth.
I also noticed that as her adult children, we had a very hard time accepting her diagnosis. It was like, "Noooo. She is our MOTHER, and she is F I I I I N E!" It took a neighbor approaching my sister and telling her, "You cannot let your mother drive anymore. She is going to have an accident." Taking my mother's car keys was dramatic and emotional for her. She told us, "OK, I won't drive but I want to see my car in the driveway." My sisters kept it like that until she couldn't remember that it was something that even existed anymore.
When she stopped making sense, it made us laugh but also frustrated and scared us beyond belief.
My sister once said, "Did you hear what "she" just said? She thought I was Aunt Josephina! Oh my!  Our aunt has been dead for a long time." Funny, but frustrating at the same time. When our mother said something nonsensical, we would roll our eyes and exchange looks. We were complicit in our feelings. We silently agreed that her mind was not what it used to be. I must say, for some of my siblings it took years to accept her changes, and for the others, her changes were not acceptable.
Sometimes she would say, "I haven't eaten in the last three days.  Please have the heart to feed me." We would sigh and hope that the Universe would grant us patience with her.
The interesting part is we all intellectually knew that she was ill. . ..  but. . .. we would still go through frustration, anger, resentment, and exhaustion. We were healthy with our brains in place but still, when my siblings got too upset with her, I would want to scream at them, "No, YOU'RE the one that doesn't get it – not our mother!" But it makes my heart ache to know that a lot of the times, I had the same attitude towards her.
This whole experience made me think a lot about how I might be treated if I am lucky enough to age as far… Dun-Dun-Dun-Dunnnnnn…. What will my future be with my own children?
My son jokes with me as says he has a "plan" for when I get old. He said he is going to set up a room with a lot of natural light, (He knows I love that) and the room will be full of books about the Beatles, the Kennedys, pictures of shoes and a Starbucks coffee! Sometimes he will say he will stack the whole room with shoe boxes so then I will feel at (work) home. My daughter doesn't tease.  She wants me to have my comfort above all else. I hope I live long enough to keep my health – without suffering. My wish for now is that they will continue to be patient with me. I would not want my kids to have to say to each other:
"No. It's YOU Who Doesn't Get It!!"
Readers – Have you been through something like this? Could you share your story with us?
Mucho, mucho LOVE Guadalupe