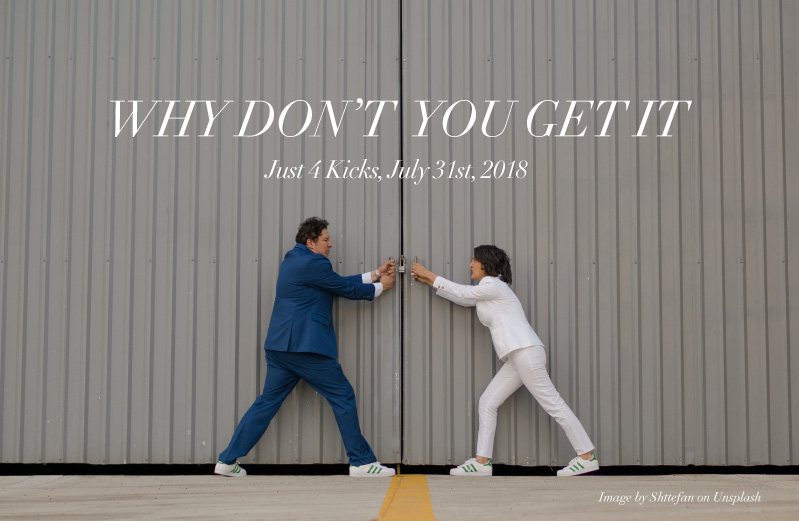 ONCE I WAS TALKING TO A CLOSE FRIEND OF MINE ABOUT RELATIONSHIPS. WE WERE COMMISERATING ABOUT HOW LITTLE SOME MEN UNDERSTAND WOMEN.  MY ADULT SON WALKED IN AND I ABRUPTLY TURNED TO HIM AND SAID, "WHY DON'T MEN GET IT?" I WAS HOPING HE WOULD GIVE ME A BRILLIANT ANSWER THAT WOULD HELP ME AND MY FRIEND TO UNDERSTAND A MAN'S PERSPECTIVE. INSTEAD HE ANSWERED IN AN AGGRAVATED WAY, "WHY DON'T YOU WOMEN GET IT? . . . THIS IS THE WAY WE ARE!" I THOUGHT TO MYSELF, "FAIR ENOUGH" AND I DROPPED IT. LATER THAT DAY THE CONVERSATION CAME BACK TO MY MIND AND I FOUND MYSELF WONDERING, "WHY DON'T WE WOMAN GET IT?"
FIRST, I SAID TO MYSELF, "GUADALUPE… WHAT DO YOU MEAN GUADALUPE!?!" I IMAGINE A MAN FIGHTING A WOMAN IN A FIST FIGHT AND I TRY TO PREDICT THE WINNER. BUT THE QUESTION IS, HOW ARE WE GOING TO SOLVE THIS ISSUE? I DON'T THINK IT'S ABOUT WINNING.  IT IS REALLY ABOUT COMPROMISING. IT FEELS TO ME, (PLEASE, IF I AM WRONG, LADY READERS, CORRECT ME.) THAT IT IS WOMEN WHO END UP COMPLYING WITH A MAN'S NEEDS TO KEEP THE PEACE. BUT THIS DOES NOT MAKE US HAPPY.  WE INSTEAD BECOME FRUSTRATED, ANGERED AND IGNORED. JUST LIKE A VOLCANO THAT IS ABOUT TO ERUPT BUT INSTEAD OF LAVA, IT ERUPTS WITH FRUSTRATION AND TEARS. FRUSTRATION AND TEARS ARE THE NATURAL RESULT OF BEING REPRESSED . . . ESPECIALLY BY SOMEONE YOU LOVE OR CARE ABOUT. BEING MADE TO FEEL LIKE YOU ARE OF A LOWER CLASS, BEING DISRESPECTED AND DISMISSED ARE THINGS THAT MAKE US FEEL LIKE BLOWING UP. I DO WANT TO CLARIFY THAT NOT ALL MEN ARE LIKE THAT AND NOT ALL WOMEN REACT LIKE THAT!!!!!!!!
YES, YES, WE ARE DIFFERENT. NOT DIFFERENT IN THE SENSE THAT WE DON'T DESERVE THE SAME RIGHTS AS EVERYONE ELSE, BUT DIFFERENT BIOLOGICALLY AND PHYSIOLOGICALLY. HAVE YOU EVER WONDERED WHAT HAPPENS TO A WOMAN'S BODY WHEN SHE PREPARES TO BECOME A MOTHER? THE OVULATION PROCESS IS SIMPLY AN AMAZING SCIENTIFIC MIRACLE. CAN YOU IMAGINE THAT WE GO THROUGH THAT EVERY MONTH? BUT WHEN WE REACH MENOPAUSE, WE DO NOT STOP BEING PHYSIOLOGICALLY AMAZING. LET ME SEE IF I CAN DESCRIBE WHAT A HOT FLASH IS. IT FEELS LIKE YOUR GUTS ARE VISITING THE CENTER OF THE SUN AND IN A MATTER OF SECONDS, YOU ARE EXPELLED TO THE DARK SIDE OF THE MOON FEELING LIKE YOU ARE FREEZING. YOUR GUTS ARE ON FIRE ONE SECOND AND THE NEXT YOU ARE FROZEN; FROM BEING PERFECTLY NORMAL TO HAVING OUR INTERNAL THERMOSTAT GO CRAZY.
SOCIETY HAS SET US UP IN SUCH A WAY THAT WE ARE AT AN UNPRIVILEGED PLACE IN THE WORLD.  IN THE TIMES OF LUCY, THE FIRST HUMAN FOSSIL FOUND IN AFRICA, MEN AND WOMEN WERE NOT SO VERY DIFFERENT PHYSICALLY. THIS TELLS ME THAT LUCY WAS NOT A STAY AT HOME MOM.  SHE WOULD HAVE ALSO BEEN RESPONSIBLE FOR GETTING FOOD FOR HER FAMILY JUST AS THE MAN WAS. BUT TIME WENT BY AND HUMANS INVENTED FARMING.  WOMEN BEGAN STAYING HOME TO TAKE CARE OF THE CHILDREN. (NOT AN EASY JOB.)  MEN BEGAN SPENDING THEIR DAYS OUTSIDE OF THE HOUSE TRYING TO PROVIDE FOR THEIR FAMILY THROUGH PHYSICAL MEANS.
THE ADVANCEMENT FROM HUNTER GATHERER SOCIETIES TO AGRICULTURAL SOCIETIES INCLUDED THE SPECIALIZATION OF LABOR. MEN WERE DESIGNATED THE PHYSICAL LABOR OF FARMING, HUNTING AND BUILDING.  TO WOMEN WENT THE EMOTIONAL LABOR OF CARING FOR THEIR FAMILIES, ENSURING COMMUNITY, ESTABLISHING TRADITION AND MOUNTING COLLECTIVE KNOWLEDGE. THE RESULT OF THIS WAS THAT MEN FOCUSED ON THINGS THAT DID NOT INVOLVE SOCIAL OR EMOTIONAL SKILLS. THEY DID NOT LEARN TO BE EMOTIONAL, TO HAVE DEEP EMPATHY, TO LISTEN, TO CARE FOR OTHERS. AND AS MUCH AS MEN NEGLECTED THESE SKILLS, WOMEN DEVELOPED THEM. THIS HAS LED TO OUR MODERN SOCIETY WHERE MEN WORK ALL DAY, COME HOME AND ARE UNABLE (AND UNWILLING) TO HAVE EMOTIONAL CONVERSATIONS OR TO VENTURE OUTSIDE OF THEIR DEEPLY HELD MASCULINITY AND TO TRULY AND HONESTLY LISTEN TO THOSE AROUND THEM.
I KNOW THIS IS A BIG ISSUE TO CHEW ON, BUT I WILL CONTINUE THIS TOPIC ON A "PART 2"
HOWEVER, I CAN SAY THAT I KNOW SEVERAL MEN WHOM ARE MORE IN TOUCH WITH THEIR FEELINGS. THEY ARE ALWAYS OPEN TO CONNECT WITH A WOMAN.
THIS IS JUST MY HUMBLE THEORY AND OPINION. LET ME KNOW WHAT YOU THINK AND IF YOU HAVE ANY THEORIES OR OPINIONS OF YOUR OWN. AND I WOULD LOVE TO HEAR FROM MY MALE READERS WHO WILL  COMMUNICATE WITH ME AT GUADALUPEJ4K@GMAIL.COM